Barn Believers Community Project Fund
How did Barn Believers come into being?
The fund was created by people alarmed that traditional barns (typically those older than about 1950 and of timber-frame construction) are being lost rapidly due to misinformation, poor communication, haste/waste, profit without respect for heritage or potential value, and even, at times, an unwillingness among people who understand timber-frame barns to share information.
Barn Believers' founding board is comprised of Lee Peck, who, with his late wife, Naomi, transformed a battered barn into a home of extraordinary welcome; along with A.J. Jones, who with his wife Kay, moved a barn destined for demolition to their wooded property where it is now a sought-out gathering place; Jan Corey Arnett, writer and author of the book, American Barns; and two youth representatives. Additionally, we can call on a cadre of advisors, who, while not active in meetings, have readily offered to provide counsel. Importantly, no one associated with Barn Believers' board stands to personally profit as a barn contractor or consultant from his or her involvement.
Is Barn Believers a barn organization?
No. Barn Believers is not a barn organization and is not affiliated with, nor a project of, any barn organization. It does not operate programs or provide advice regarding contractors or repairs. Activities of Barn Believers focus on building the fund itself so that more and larger grants can be made that make a lasting difference to save barns and their history. Our activities raise money and, in the process, awareness and relationships. Nonprofit organizations considering projects are encouraged to contact Barn Believers through the Battle Creek Community Foundation to discuss ideas and opportunities.
What does Barn Believers see as some of the key issues facing traditional barns today?
There are misassumptions that old barns are a nuisance, too expensive to maintain, are a liability, cannot be adapted, and have no value once their farm life is over. Without people taking time to weigh options, barns are left to decay or are destroyed when, in fact, their potential may be enormous. Barn Believers wants people who have a role in the life or death of a traditional barn to be open to changing insurance policies, rethinking zoning, reconsidering code compliance, marketing real estate more wisely, writing estate plans more carefully, planning highway and structural development more thoughtfully, and weighing all options so that more barns can be saved.
Additionally, people who know how to evaluate, repair, adapt, and reuse traditional barns need to be willing to share information, teach young people in academic settings, and work together now, not just when they reach retirement and no longer see sharing information as a threat to their own livelihood or status. There is a need for more people with barn-related aptitudes and attitudes.
Is there hope for traditional barns? Do you feel positive about the future?
Yes, there is hope. And yes, we feel positive about the future because of the upsurge in interest in giving new life to old barns and the depiction of the American barn as a symbol of honest labor and wholesomeness. While sadly, many structurally sound, viable barns are being reduced to furniture and mantle pieces, others are seeing new life in adaptive reuse whether on or off the farm. The timing is perfect for funds such as Barn Believers and open-minded people to be working together. Academic settings are offering programming geared to today's agricultural economy and its careers and youth organizations are looking for ways to engage young people in new endeavors. Understanding and saving barns should be part of those offerings. People who have given new life to old barns can inspire others at annual conferences, group meetings, through social media and barn-related events.
We feel hopeful that with the popularity of barn quilt trails, agri-tourism, agri-tainment, the resurgence of the family farm, health-focused rural lifestyles, and attention to barns in a variety of publications, that positive trends will continue. Facebook users can readily find fascinating sites devoted to sharing photography and stories of barns not just in Michigan but around the country.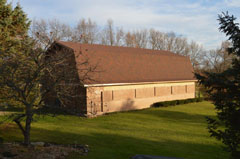 Built in 1982, this isn't a timber-frame barn, but as a dimensional wood-frame barn, care will determine its longevity and desirability.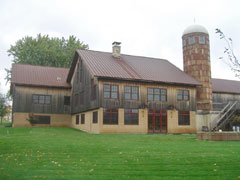 The barn home created by Lee and Naomi Peck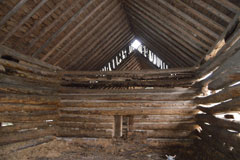 "Cut it up for firewood," an insurance agent told the owner of this magnificent Upper Peninsula log barn.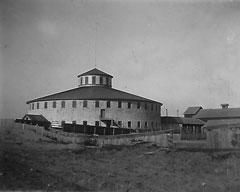 The exquisite brick round barn once stood in Menominee County on a stock farm where there were also several other outbuildings including at least two large timber-frame barns. Nothing remains of the farm today.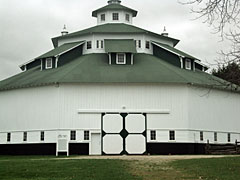 Contrast that with the Thumb Octagon Barn in Gagetown, nearly destroyed, but rescued by a group of determined people who formed Friends of the Thumb Octagon Barn. Today, it is a thriving center of activity and agricultural history.