Barn Believers Community
Project Fund 2019
One year ago, the Barn Believers Community Project Fund, was established with the Battle Creek Community Foundation to save traditional barns, a national treasure, because time is running out for barns.
Gifts made to the Fund over the past year prove that people care – a lot – about barns. People believe in the mission of the Fund and the integrity of those taking responsibility for it. Thank you! We are off to a good start but there is much, much more to do.
Barn Believers is a working fund because barns don't have years to wait to build an endowment from which only interest earnings can fund projects. A community project fund offers maximum flexibility.
Matching grants go to nonprofit organizations to train people for barn-related careers, bring decision-makers together to design new policies and share wisdom, preserve historic barn-related collections, and convey information that separates myth from reality.
Among formative projects already brought to Barn Believers' attention:
producing a children's book on the history and value of the American barn.
restoring a rare, one-of-a-kind farm building for preservation and education.
documenting the dismantling, relocation, and subsequent rebirth of a Michigan barn.
designing curricula for careers in barn repair and reuse.
expanding a project to document Michigan farmsteads.
supporting the creation of an historic park which would include a relocated barn.
bringing people together at two mid-1800s barns to learn their history, importance, and techniques for preserving them, culminating in a barn dance at a restored barn.
Barn Believers Community Project Fund volunteers have been invited to work with the Art Center of Battle Creek in 2019 to showcase a summer exhibit and activities honoring the American barn. Michigan artists will be invited to submit work in any media while workshops and educational programs will deliver information for saving barns. The exhibit will be outlined on the Art Center's website and highlighted by the Michigan Tourist Association with the expectation of more than 2,000 visitors and another 200 participating in hands-on activities. You can help make this event spectacular.
Barn Believers has produced an information card packed with valuable tips. Sherriff Goslin Roofing has stepped up to be the first sponsor for printing. If you, or your organization want to show your support for saving traditional barns by sponsoring a printing and/or by sharing the card with your group, contact the Battle Creek Community Foundation at www.bccfoundation.org, 269-962-2181. Help spread the word!
Increasing numbers of people genuinely care about saving barns and want to do something tangible. Barn Believers Community Project Fund is a way to do exactly that.
Barns need us. Please give them your support in dollars and deeds using the enclosed donation card or visit www.bccfoundation.org/giving/Barn-Believers to give directly to the fund. There isn't a moment or a barn to waste.
With your help, we can make more and larger grants. Please, don't only say you feel bad to see barns lost. Take action now to see barns saved.
Each donor of $100 or more to the Barn Believers Community Project Fund will receive, as a thank you from the Richard Lynch Band, a copy of the band's CD, "Mending Fences," featuring, "Worth Saving," a tribute to American Barns!
Who should I contact for more information about this fund?
Questions should be directed to the Battle Creek Community Foundation which will forward them to the Barn Believers board.
Battle Creek Community Foundation
32 W. Michigan Avenue, Suite 1
Battle Creek Michigan, 49017
(269) 962-2181
Help Build the Barn Believers Fund
Ways to Help Barn Believers
Gifts of cash, stocks, bonds, or personal property can be made to the Battle Creek Community Foundation, designated to the Barn Believers Community Project Fund. Details are available through the Foundation to assist donors.
Visit http://www.bccfoundation.org/giving/Barn-Believers to donate online.
---
Barn Believers is honored that the Richard Lynch Band, in its many concert appearances, is spreading the word that "Worth Saving" was written because Richard shares our commitment to saving barns. To schedule a concert with this award-winning band – maybe even a concert to be held in a barn – contact the band at www.richardlynchband.com and say you learned of them through Barn Believers!!


This beautiful barn near Battle Creek will likely be destroyed to make way for more commercial development sometime in 2018. Several steps, initiated a few years ago, involving communication, awareness and care, could have made an extraordinary difference both in its condition now and in making it available for relocation. Contact Jan Corey Arnett at (269) 832-4893 if interested in dismantling and saving the barn.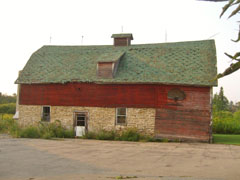 This Upper Peninsula barn is one of a few remaining barns of this style. It has beautiful potential to be saved right where it is if its owner had the right information, help, and preservation ethic.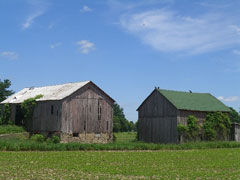 A man from the West Coast was interested in saving these Michigan barns, but could not get their owner to respond. This is heartbreaking as the timber-frame barns are deteriorating rapidly.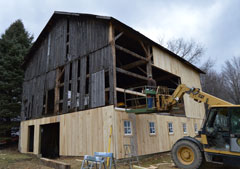 Contrast that with the work done to a similar barn, giving it dozens of years of new, useful life..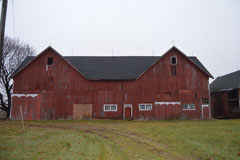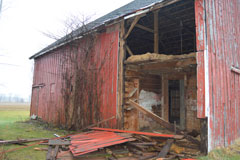 This once-stately Marshall-area barn and the barn beside it, have been used and abused. For years, hospital furniture, signage, clutter, and waste lay in and behind the barn as vines, tree branches and mold did their damage. Now, as people tear away pieces and parts, the barns continue to suffer. If something is not wanted, why not make it available for someone else to dismantle, relocate and rebuild for an entirely new future?