2019 - From our opening reception at the Art Center of Battle Creek for the two-month exhibit (June and July), to the grand finale concert with a standing ovation for the Richard Lynch Band of Waynesville, Ohio, memories were made. Our fundraising goal was met – and then some!
Linda Holderbaum, executive director of the Art Center of Battle Creek, at an October 2019 meeting of the Center's board, honored Barn Believers. "The great spirit, cooperation, hard work, and creativity on all levels, made Barn Believers a delight to work with. The Barn exhibit brought in a record number of visitors for a summer exhibit and allowed us to involve a large community of artists from the state of Michigan. We look forward to partnering with you again."
Thank you to everyone who contributed time, talent, and/or treasure – our wonderful sponsors and donors, more than 80 businesses and individuals who gave items or services for the silent auction, our speakers, staff at the Art Center, musicians, food vendors, and dozens of people who, over the course of the two months, shared barn stories or words of encouragement for the importance of our mission. Thank you to the Battle Creek Community Foundation's Fund for the Arts, for making sure that the "Heart of Heatherbrook" mural, first created in 2007 has been "barn again." Tony Hendrick of Grand Ledge was the lead artist in 2007 and was the solo artist in 2019. The mural once again can be seen by millions who travel Michigan's I-94 between Marshall and Battle Creek, proudly mounted on the Dreamfield Acres Barn!
Highlights from our 2017 Launch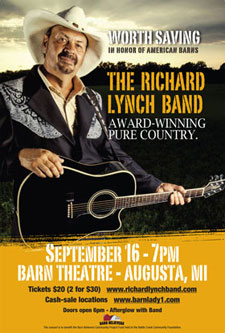 Click on our 2017 Concert Program to see a wealth of information for decision-making about barns!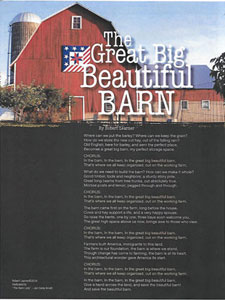 Click on the "The Great Big Beautiful Barn" song lyrics. If you would like to teach this song to children, contact Jan Corey Arnett.