Grant Information
We can All Make a Difference!
Valuable pieces of history are lost when old photos, farm records, documents, and memorabilia are discarded. These items should instead, be donated to historical societies, museums or other entities that can evaluate and preserve significant materials. Barn Believers can help by providing grant support to nonprofits archiving materials, creating permanent exhibits honoring local farm history or gathering information about the farms/barns in their area.
Barn Believers is also prepared to assist groups as they bring people together to discuss and write appropriate policies surrounding the unique challenges confronting old barns. Effective, well-thought-out policies are needed for zoning, code compliance, insuring, adapting, relocating, and simply communicating respectfully and sensibly about barns.
We also believe that Michigan should celebrate its barns as much as it does its lighthouses, lakes, and waterfalls. (Barn quilt trails/maps are a wonderful addition to barn appreciation.) Visitors to our state could benefit from having a statewide map, helping them locate barns both stately and simple, to photograph or even visit. Is this project just right for your group?
Barn owners express enormous frustration over the shortage of skilled, dependable people to make repairs to traditional barns. The Midwest needs more people qualified to undertake repairs to these structures, who understand and respect them. Is your school, college or career center an ideal setting for developing comprehensive training in barn repair, relocation and/or reuse?
Each of us has the capacity to make a positive difference and to be an advocate. Perhaps a barn many people love is threatened and could be saved by being moved and given a nonprofit purpose. Barn Believers CPF support may allow for expertise to be brought in to assess the barn and advise on steps that might be taken to save it.
We wish we had the resources to save barns belonging to private citizens. Private citizens can, however, save barns through planful maintenance. Read, request copies of "Saving Heritage Barns" and help spread the word.
Barn Believers Community Project Fund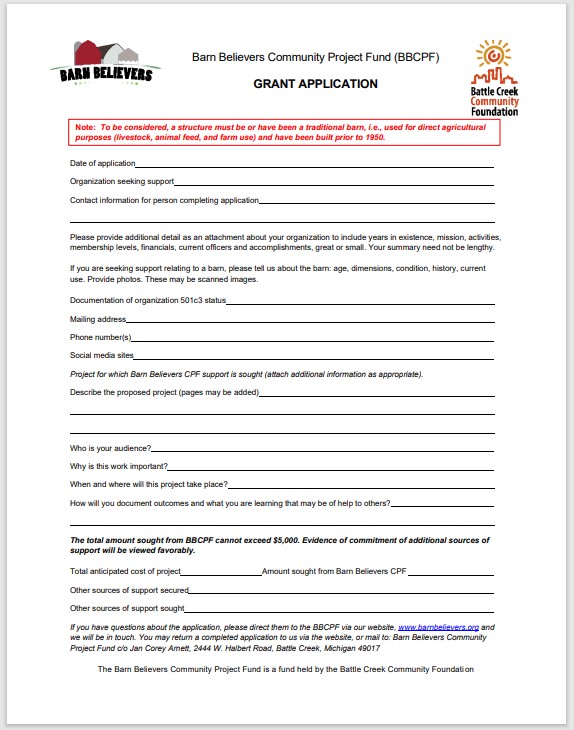 WHEN APPLYING FOR A GRANT PLEASE SEND FIVE COPIES OF ALL SUBMITTED DOCUMENTS. THANK YOU!
Mail completed application to:
Barn Believers Community Fund
c/o Jan Corey Arnett
2444 W. Halbert Road
Battle Creek Michigan, 49017
If you would like to discuss an idea, please contact us.