Barn Believers Community
Project Fund 2018
The Barn Believers Community Project Fund informs, inspires, and connects people with traditional barns to encourage their continuing use in agriculture, community, and the economy.
What is the Barn Believers Community Project Fund?
Barn Believers Community Project Fund is an account held with the Battle Creek Community Foundation, Battle Creek, Michigan, from which grants can be made to support projects undertaken by nonprofit organizations (501c3) that save barns, barn-related history/artifacts, and carry out educational activities related to barns such as workshops, policy development, and events. The Fund was established in mid-2017. Grants may be up to $500 depending upon the project and other resources committed to it. Grants cannot be made to private citizens for the repair of their barns.
Is there a grant application process?
Yes. That application is being drafted by the board of Barn Believers and will be available at a later date. Importantly, organizations seeking support must be able to demonstrate the need for assistance from Barn Believers, support from additional sources, a defensible plan for the use of grant money, and how outcomes will be determined. Recipients will be asked to provide an outcomes report.
Who should I contact for more information about this fund?
Questions should be directed to the Battle Creek Community Foundation which will forward them to the Barn Believers board.
Battle Creek Community Foundation
32 W. Michigan Avenue, Suite 1
Battle Creek Michigan, 49017
(269) 962-2181
Help Build the Barn Believers Fund
Ways to Help Barn Believers
Gifts of cash, stocks, bonds, or personal property can be made to the Battle Creek Community Foundation, designated to the Barn Believers Community Project Fund. Details are available through the Foundation to assist donors.
Visit http://www.bccfoundation.org/giving/Barn-Believers to donate online.
---
Barn Believers is honored that the Richard Lynch Band, in its many concert appearances, is spreading the word that "Worth Saving" was written because Richard shares our commitment to saving barns. To schedule a concert with this award-winning band – maybe even a concert to be held in a barn – contact the band at www.richardlynchband.com and say you learned of them through Barn Believers!!


This beautiful barn near Battle Creek will likely be destroyed to make way for more commercial development sometime in 2018. Several steps, initiated a few years ago, involving communication, awareness and care, could have made an extraordinary difference both in its condition now and in making it available for relocation. Contact Jan Corey Arnett at (269) 832-4893 if interested in dismantling and saving the barn.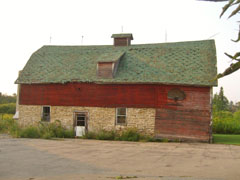 This Upper Peninsula barn is one of a few remaining barns of this style. It has beautiful potential to be saved right where it is if its owner had the right information, help, and preservation ethic.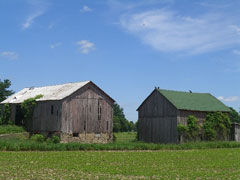 A man from the West Coast was interested in saving these Michigan barns, but could not get their owner to respond. This is heartbreaking as the timber-frame barns are deteriorating rapidly.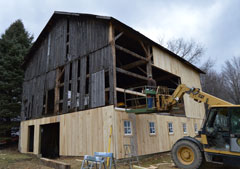 Contrast that with the work done to a similar barn, giving it dozens of years of new, useful life..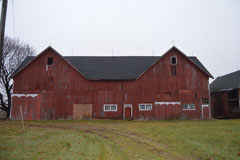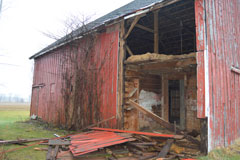 This once-stately Marshall-area barn and the barn beside it, have been used and abused. For years, hospital furniture, signage, clutter, and waste lay in and behind the barn as vines, tree branches and mold did their damage. Now, as people tear away pieces and parts, the barns continue to suffer. If something is not wanted, why not make it available for someone else to dismantle, relocate and rebuild for an entirely new future?