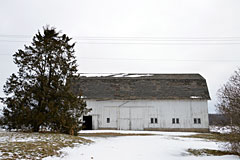 Timber-frame barn owned by Michigan State University. Contact Brook Wilke: Barn available to relocate. 269-671-2509.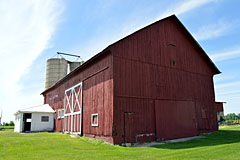 Dismantled and relocated timber-frame barn. Saved!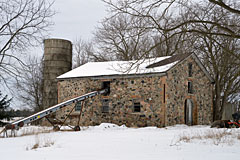 Rare 1853 stone barn. Failing.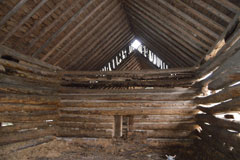 "Cut it up for firewood," an insurance agent told the owner of this magnificent Upper Peninsula log barn.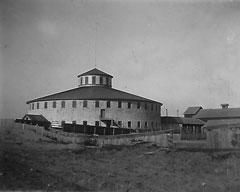 The exquisite brick round barn once stood in Menominee County on a stock farm where there were also several other outbuildings including at least two large timber-frame barns. Nothing remains of the farm today.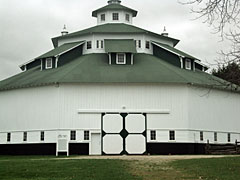 Contrast that with the Thumb Octagon Barn in Gagetown, nearly destroyed, but rescued by a group of determined people who formed Friends of the Thumb Octagon Barn. Today, it is a thriving center of activity and agricultural history.
Threats to barns:
misassumptions that a barn is too expensive to maintain, is a liability, or cannot be adapted
neglect which is destroying potential making repair costs rise
a lack of awareness that barns can be relocated or repaired at a tax savings
insurance, zoning, development, and real estate people who do not understand heritage barns
houses and barns split from land, limiting options for buyers
the destruction of historical documents and photos due to a lack of awareness of their value
a need for museums, research centers, historical societies to preserve barn/farm collections
a shortage of people qualified to evaluate, repair, and adapt barns
development without creative thinking to incorporate heritage buildings into planning
a critical need for cooperation and proactivity with the barn preservation community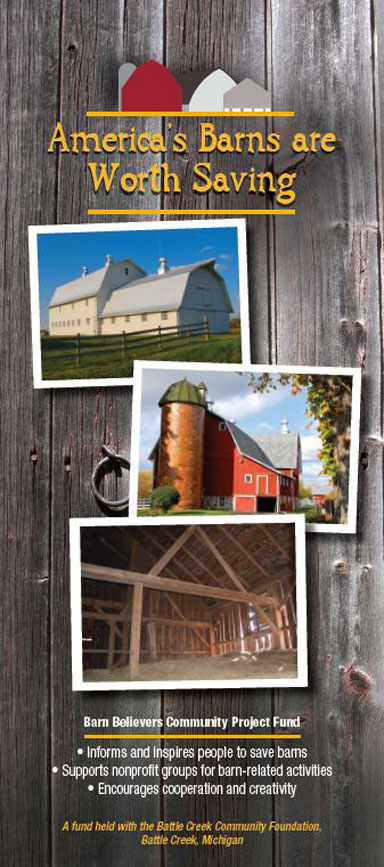 Share Information:
Contact us for this informational card packed with valuable tips or download and print. These can be given out at your event and meetings, or placed in a museum, visitor's center, or many locations.
Click the image to download a PDF.
Create barn-themed displays: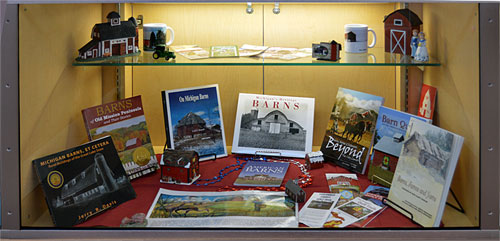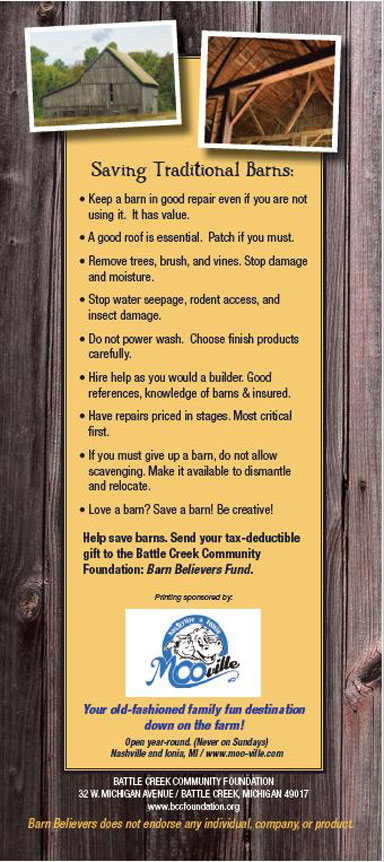 Michigan Farmer: Visit www.Michiganfarmer.com. for articles about barns and especially June and July 2020 features on issues confronting barns and recommendations for repairing them.
Barn Aid Series: free booklets for download from the National Trust for Historic Preservation.
Become a Barn Believer by advocating for a barn or barns in your area and for changes in policies and practices. Document barns. YOU can make a difference!
Help Build the Barn Believers Fund: http://www.bccfoundation.org/giving/Barn-Believers to donate online or contact us for materials.
Host a fundraiser for Barn Believers.
Apply for a Barn Believers CPF grant: See Grants/Application. (Download a PDF)
Barn Aid Series
The National Trust for Historic Preservation and Successful Farming Magazine
These booklets were first published as part of the National Trust for Historic Preservation's BARN AGAIN! program (in collaboration with Successful Farming magazine) in the 1990s. Reproduced here in digital format with permission for free personal download, monetary calculations are no longer accurate , however the basics remain valuable. Other excellent barn repair reference materials available for download include Ohio State University Extension "Fact Sheets" on rehabilitation, economic incentives, and hiring a contractor. (www.ohioline.osu.edu)