Grant Information
A Special Note...
Barn Believers Community Project Fund (BBCPF) wants to plant some seeds to help possible applicants for grants.
During these months of change in our lives brought on by Covid 19, many are using the time to clean out closets, get rid of boxes of "stuff" that belonged to elderly family members, or are finally getting to that special project. Decisions are being about what to do with old family photo albums, journals, and photos whether they are at someone's home or have been sitting in a corner at a historical society. Some are planning ahead for projects they can undertake when restrictions are lifted.
We believe that Michigan farm history needs to be preserved not discarded. Some historical societies and community museums around the state may need help to properly label, archive and store donations. Or, maybe they are thinking of building a permanent exhibit honoring local farm history or want to gather still more information about the farms/barns that have been important to the history of their county. Barn Believers can help.
A nonprofit group may want to get people together – socially distanced or by zoom -- to better understand how old barns can be successfully given new lives in a community by convening local township planning officials, realtors, venue barn owners, and others. Wise, barn preserving policy is vitally needed.
Another greatly-needed project is to research our state's existing collections of farm/barn materials, particularly documents and photographs, to create a database of places like the Michigan State University archives, the State of Michigan archives, and collections at museums around the state.
Visitors to our state could benefit from having a great map with GPS coordinates, helping them know where there are great barns to visit or to photograph from the roadside. These are projects that may not require a lot of financial support but just enough to move from idea to reality. Other projects may be of a larger scale. Perhaps a barn everyone knows and loves is threatened and could be saved by being moved and given a nonprofit purpose. Barn Believers CPF support may allow for expertise to be brought in to assess the barn and advise on steps that might be taken to save it.
Barn Believers CPF was created to help carry out projects that preserve barns and their vital history in Michigan. We cannot repair barns owned by private citizens. But private citizens can help preserve heritage in a multitude of ways. Please contact us with your ideas. Let's make good things happen!
Barn Believers Community Project Fund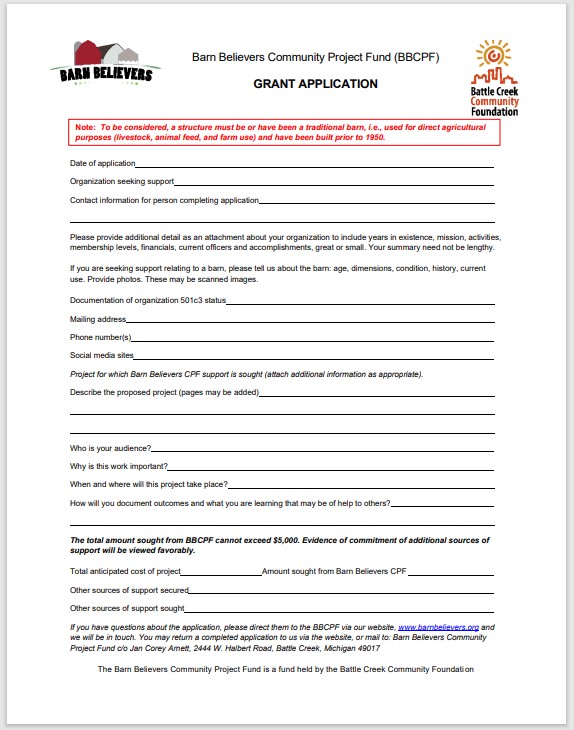 Mail completed application to:
Barn Believers Community Fund
c/o Jan Corey Arnett
2444 W. Halbert Road
Battle Creek Michigan, 49017
If you would like to discuss an idea, please contact us.